Strollin' to Fight SIDS 2014 a success!!

We have raised $15,150.71 for SIDS research! We are absolutely amazed that we not only met our goal of $9,000 dollars, but that we greatly exceeded it! Thank you once again to all of our sponsors (see tab above) and those who supported us.. through donations, and walking or running. We couldn't have done it without you! Enjoy some pictures from our event on June 7:


We are already thinking about next year's stroll. We are in need of volunteers, and other families affected by SIDS who would like to join us in running Strollin' to Fight SIDS. We need help to keep this event running, and to help obtain support from sponsors and the community. Are you interested? Please email us at info@strollintofightsids.org or fill out the form under the Questions tab. Thank you!

The story behind our mission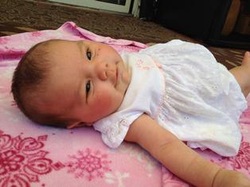 Anneliese Marie Reher

It is a parent's worst nightmare. You put your baby down for a nap. An hour later you go to check on your baby and she is dead. An autopsy finds no particular cause of death. Your baby has died of SIDS.


Sudden infant death syndrome (SIDS) is the unexplained death, usually during sleep, of a seemingly healthy baby (Mayo Clinic). SIDS is the leading cause of death among infants 1-12 months old (National SIDS Resource Center). Every day 6 families in the United States face this nightmare.

In October of 2012 the Reher family became one of those families when their beautiful 4 month old daughter, Anneliese died during a nap. With Anneliese's death came an emotional pain like none other, touching not only her immediate family, but extended family, friends, and, over time, the community. From this pain the idea of "Strollin' to Fight SIDS" was born.

Strollin' to Fight SIDS is a 5k "stroll" in Bellevue, Washington to raise awareness of SIDS and money for SIDS research. Families who have experienced this nightmare will share their stories and celebrate the life of their child. The community will come together to laugh, stroll, celebrate the lives of these children, learn more about SIDS, and raise funds for research to find the causes of SIDS and develop tests to prevent SIDS from ever touching another family.

---
---
Anneliese Marie Reher
June 21, 2012 ~ October 27, 2012